Does your department constantly feel "under the gun" as deadlines approach? Are you overwhelmed by the staggering number of post-it notes that have taken over your desk? Do you think about how much more productive your team could be if they didn't spend their entire day sending and receiving email?
The majority of people in today's workforce would answer "yes" to at least one of those questions. In a typical business day, people can feel overworked and overwhelmed by the volume and speed of today's high-speed information exchange. While we can't make email or deadlines go away, we can work with you to make them more manageable.
Over the course of a day, priorities change, interruptions occur and deadlines that looked manageable yesterday, become impractical today. Our approaches to Priority, Time and Workload Management are based on our time-tested productivity process that helps you plan for and react to these changes. This allows you to maintain your focus on the organization's priorities. Our process, combined with your tool, creates a comprehensive workload management system. This system allows you to:
Think and work more proactively
Manage a large volume of information: e-mail, voice mail, faxes, memos, reports and files
Organize communications
Plan and prioritize daily tasks
Reduce desk clutter
Recover more quickly from interruptions
Take back control of your day
End your day with an empty inbox and clear mind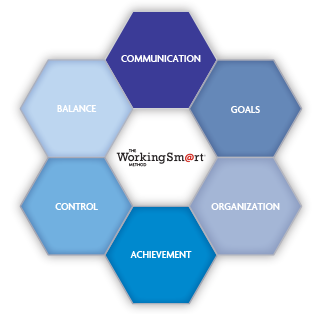 Workshops
We conduct various workshops for in-tact teams, departments and organizations that address the many challenges busy people face and focus on breaking down productivity barriers. Since every organization is unique, we conduct in-depth conversations with sponsors and participants to gain a firm understanding of your business, your culture and your distinct productivity barriers. Once we understand these important aspects of your organization, we customize the workshop to address these barriers in the most effective way. Our workshops are followed up with one-on-one phone appointments to address personal challenges and questions. We won't leave you high and dry: we are always just a phone call away.
A sample of our workshops include:
WorkingSm@rt

®
Evaluation Summary
Thousands of individuals from around the world have completed our workshop effectiveness questionnaire. When asked,
"How much time have you gained each day as a result of the program?"
The average of all the respondents, for all companies was +53 Minutes per day per person.